Magento Competitor Monitoring
WHY COMPETITIVE MONITORING?
Today, online consumers are finding more creative ways and tools to comparison shop. One of the most relevant criteria they will compare products, is by your price. We take the blinders off, with automated tools to monitor your competition and set automated price adjustments on your Magento eCommerce store. Now, knowing what your price margins are you can understand competitive landscapes automatically. Your chances of losing customers to competitive price points (assuming you can support price adjustments) will not be a concern of yours .
By gaining insights into your competitors pricing, you know where you stand against your competition and can shape your pricing strategy accordingly. Getting your prices right is the key to running a competitive eCommerce Store. 
FINDING PRICING BALANCE
Competitor price tracking gives you insight into competitors' pricing strategies. This allows you to set your prices, avoid pricing discrepancies that improve profitability and sales time.
MONITOR YOUR COMPETITOR PRICES WITH NUETHIC
NuEthic regulates your sales prices in relation to the competition, improving your conversion ratio and maximizing profits. 
KEY AREAS OF COMPETENCE
SET YOUR OWN REPRICING RULES
Set advanced rules to define your profitability level, repricing threshold, markup/markdown automations and other effective pricing strategies to maintain a competitive advantage. 
REAL-TIME PRICING DATA:
Automatically scan and monitor thousands of online stores so you can react to price changes as they happen. 
REPRICING
Reprice your products to markup or markdown at any time. With various automation options, you set the specifications and we accomplish repricing tasks.
PRICE HISTORY ANALYTICS
Gather pricing history for any product in the online retail marketplace. You can gain invaluable insight on competitor pricing strategies and always stay one step ahead.
1. We research the products you sell to provide a competitive pricing landscape for your online store. 

2. See the status of your products vs. your primary competitors to gauge whether your price is too high or too low.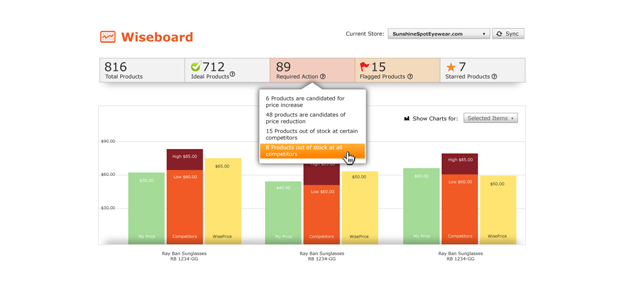 3. Set your price according to competitive market demands. Automate your pricing strategy to match competitors on a daily basis.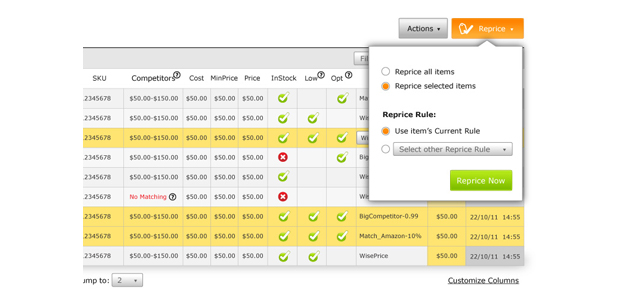 4. See a detailed view of a product's pricing history for each competitor. Gain valuable insight on your competitor's pricing strategies and adjust your strategy to stay on top.