Magento Competitor Monitoring
WHY COMPETITIVE MONITORING?
More often these days, online consumers are finding creative ways and tools for their online shopping experience. One of the most relevant criteria they will judge against you is your price. We are here to help your business not only navigate through this competitive enviroment, but to help you thrive! With automated tools that not only monitor your competition but also set automated price adjustments on your Magento eCommerce store, you can stay ahead of the curve and play the game by your rules. Knowing what price margins you can bear and playing the best price game automatically, your chances of losing customers to competitive price points will not be a concern of yours.
By gaining insights into your competitors pricing, you will know where you stand against your competition and can shape your pricing strategy accordingly. Getting your prices right could be the key if you are running an eCommerce Store with a variety of products and competing closely with a host of other eCommerce businesses in the same market segment.
FINDING PRICING BALANCE
Competitor price tracking gives you an insight into your competitors' prices, helping you optimally set your prices, avoiding underpricing or overpricing, and leveraging price comparison to improve profitability and sales time.
MONITOR YOUR COMPETITOR PRICES WITH NUETHIC
NuEthic helps you dynamically regulate your sales price in relation to your competition improving your conversion ratio, maximizing your profits and consequently allowing you to leverage competitive advantage.
KEY AREAS OF COMPETENCE
SET YOUR OWN REPRICING RULES
Set advanced rules to define your profitability level, repricing threshold, markup/markdown automations, and other effective pricing strategies to be competitive and profitable.
REAL-TIME PRICING DATA:
Automatically scan and monitor thousands of online stores so you can react to price changes as they happen. While others have to rely on old-fashioned, tedious research, we all the hard work for you.
REPRICING
Reprice your products to markup or markdown at any time. With various automation options, you set the specifications, and we independently accomplish repricing tasks.
PRICE HISTORY ANALYTICS
Gather pricing history for any product in the online retail marketplace. You can gain invaluable insight on competitor pricing strategies and always stay one step ahead.
1. We research the products you sell to provide a competitive pricing landscape for your online store. Leave the hard work to us!

2. See the status of your products vs. your strongest competitors, and gauge whether your price is too high or too low.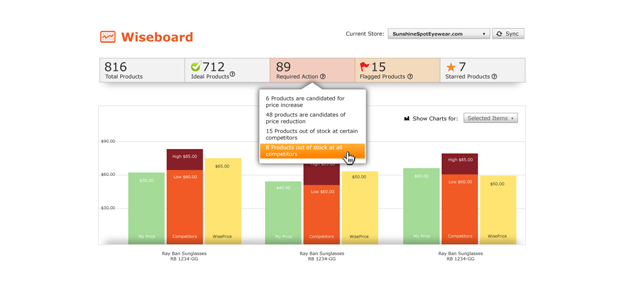 3. You can set your price according to your competitors and market demands. You can also automate your pricing strategy to match your competitors on a daily basis.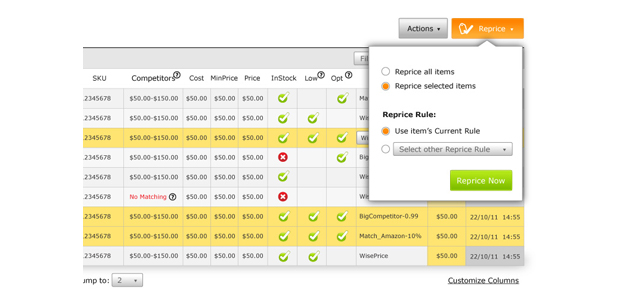 4. See a detailed view of a product's pricing history for each competitor. You can gain valuable insight on your competitor's pricing strategies, and adjust your strategy to stay on top.